Heritage Trail #2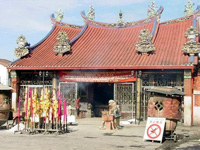 Goddess of Mercy Temple
Jalan Masjid Kapitan Kling (formerly known as Pitt Street)
Also known locally as Kuan Yin Teng , this Chinese house of worship which was founded in 1801 is one of the oldest Chinese temple in Penang . Popular with local devotees, this temple bustles with activities, especially on special days of worship according to the Chinese calendar. Also at certain times of the year, Chinese operas and puppet shows are staged on the granite-paved temple grounds for the deities within, though it also draws scores of human audiences, especially in the cool evenings.
---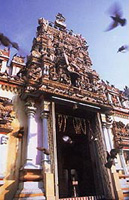 Mahamariamman Temple
Queen Street
Located within Little India, the entrance to this Hindu temple which was built in 1833 is framed by an ornate 23 ft. tall gopuram or sculpture, decorated with numerous figurines based on Hindu mythology. This temple comes to life, especially during the annual Navarithri celebration when the statue of Goddess Mahamariamman is taken out for a tour around Little India on her decorated chariot.
---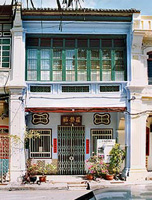 Dr Sun Yat Sen's Penang Base
120 Armenian Street
Chinese revolutionist, Dr. Sun Yat Sen (1866 – 1925) once held a meeting, known as the ¡®Penang Conference', at this Tung Meng Hui local party headquarters in 1910, which later led to the Canton Uprising against the Manchu government in 1911. This late 19 th century shophouse is now a private museum with exhibits about Dr Sun and the role he played which led to China becoming a republic in 1912 and him, the elected first provisional President.
---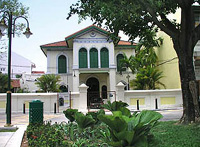 Syed Alatas Mansion / Penang Islamic Museum
128 Armenian Street – Telephone: 604-262 0172
Once home of Syed Mohamed Alatas, a 19 th century Achenese merchant who was also the leader of the Red Flag secret society, this early Straits Eclectic style Muslim bungalow, built in the 1860s, is now the Penang Islamic Museum . On display are 17 th century ceramic tile, mosque fittings over a hundred years old, labu (clay drinking vessels), batu giling (grinding stone), Arabic calligraphy, tapestries, cultural and religious antiquities.
Visiting Hours: Daily from 9.30am to 6pm / Closed on Tuesdays;
9.30am to 4.00pm during the fasting month
Admission: RM3.00/pax
---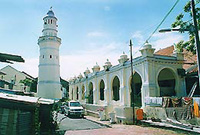 Acheen Street Mosque
Acheen Street
Tucked away within the Malay enclave is the oldest mosque on Penang island, the Mesjid Acheh, founded in 1808 by Tengku Syed Hussain Al-Aidid, a pepper trader with links to the Achenese royal house. The original structure with the octagonal minaret remained relatively unchanged, except with addition of the turn-of-the-20th century Moorish arcade. Customary of mosque founders, Syed Hussain who died in 1840 lies buried beside the mosque.