Heritage Trail #3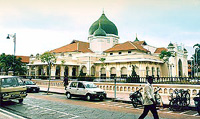 Kapitan Kling Mosque
Jalan Masjid Kapitan Kling (formerly known as Pitt Street)
With its copper Moorish domes gleaming in the sun, the Kapitan Kling Mosque is one of the oldest and the most recognisable mosque in Penang . The building of this Indian Muslim mosque began around early 1800s which changed its form over the years until as recent as 1930s.
Named in honour of its founder, Cauder Mydin (Mohideen) Merican was the 'Kapitan Kling' or Captains of the Klings (Indian Muslim community) at the time of its early construction.
---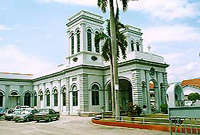 Cathedral of the Assumption
Farquhar Street
Founded in 1786 and originally located at Church Street , the Church of the Assumption was so named because the first group of Roman Catholic Eurasians from Kedah landed in Penang that year on the eve of the Feast of the Assumption. The church was later moved to Farquhar Street around 1802. The current structure was built in 1860 with extensions added in 1928. The Assumption became a Cathedral in 1955 by Degree of the Vatican .
---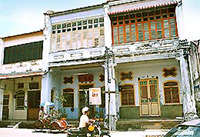 Hainanese Mariners' Lodge / Penang Heritage Trust
26A Stewart Lane – Telephone: 604- 264 2631
The Hainanese Mariners' Lodge, at one time, had accommodated itinerant Hainanese mariners and some of their family members. It is now the office of the Penang Heritage Trust. Established in 1986, this non-profit, non-government organization which is committed to raise the level of awareness and advocate historical preservation of George Town , is also a good place to visit to learn more about historic Penang.
The office houses a resource library and a gift shop, and also organises heritage tours around the inner city.
---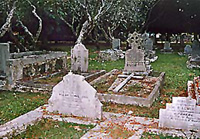 Christian Cemetery
Jalan Sultan Ahmad Shah (formerly known as Northam Road)
Although this over 200-year old Protestant cemetery lies next to a busy thoroughfare, the tranquil ambience of this 'garden' provides an ideal respite from a hectic walk around the city. Stroll among the final resting place of European pioneers, beneath the cool shade of frangipani trees. Among those buried here are Sir Francis Light and Rev. Hutchings who was the founder of Penang Free School.
The Roman Catholic cemetery lies beyond the small doorway along the southern wall of the cemetery.