Heritage Trail #1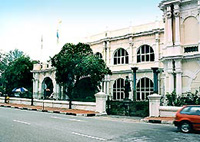 Penang State Museum
Farquhar Street – Telephone: 604-261 3144
Showcasing over two centuries of documented history, the State Museum is a great place to start for a quick introduction to Penang's history and its people. Myriad antiquities and exhibits which portray the cultural heritage of the various multiethnic communities are housed in this Classical Renaissance building that was once occupied by the oldest English school in Southeast Asia – Penang Free School (est. 1816). Also on exhibit are original 19th century paintings and lithographs depicting early Penang.
Visiting Hours: Daily except Fridays from 9am to 5pm
Admission: RM1.00/pax
---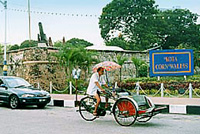 Fort Cornwallis
Light Street
When English East India Company trader, Captain Francis Light, arrived in 1786 to establish Penang as a British outpost, he built a nibong palm stockade which was later replaced in 1793 by a wooden structure which he named Fort Cornwallis. The current star-shaped fort, which is the oldest surviving structure in Penang, was later rebuilt with bricks and stones in 1804.
Among the attractions within the fort are the bronze statue of the Francis Light Memorial and Seri Rambai, a demi-cannon which once belonged to the Dutch East India Company.
Visiting Hours: Daily 9am to 5pm
Admission: Free
---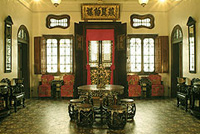 Pinang Peranakan Mansion
29 Church Street – Telephone: 604-264 2929
A recreation of a typical Baba-Nyonya home of a century ago, this private museum celebrates the opulent lifestyle of this unique community of acculturated Chinese, through its rich legacy of antiques and collectibles on display here in this heritage house.
Formerly built by one of Penang's historical personalities, the recently restored mansion boasts of fine Straits Eclectic architecture which elegantly combines European and Chinese elements in its design.
A visit to this museum also includes the adjoining family temple, the Kapitan Chung Keng Kwee's Memorial Hall which reflects Quangdong-styled Chinese temple architecture, complete with elaborate timber carvings and ceramic figurines.
Visiting Hours: Mondays – Saturdays from 9am to 5pm / Closed on Sundays and Public Holidays.
Daily conducted tour at 11.30am and 3.30pm.
Admission: Adults (Ages 12 and above) – RM10.00/pax Children (below 12) – Free.
www.pinangperanakanmansion.com
---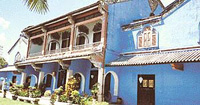 Cheong Fatt Tze Mansion
14 Leith Street – Telephone: 604-262 0006
Known from the indigo-coloured walls, the 'The Blue Mansion' is the epitome of local eclectic architecture with western and eastern elements incorporated into the design of this two-storey Chinese courtyard-styled home.
Here, English floor tiles, Scottish ironworks and stained glass windows used in combination with gold leaf-gilded timber panels and Chinese decorative porcelain works also best personified the eclectic personality of the late 19th century millionaire, Cheong Fatt Tze. As an exemplary restoration project, the Cheong Fatt Tze Mansion won several awards including the 'Most Excellent Project' for UNESCO's Asia-Pacific Awards 2000 for Cultural Heritage Conservation.
Tour Hours: Daily conducted tour at 11am and 3pm
Admission: RM10.00/pax
---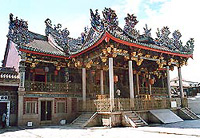 Khoo Kongsi
18 Cannon Square – Telephone: 604-261 4609
The Leong San Tong Khoo Kongsi (Dragon Mountain Hall) clan house is famed for its fine architecture and decorative finishes. Its recent three-year restoration project in 1999 had greatly enhanced its beauty which further revealed intricate timber and stone carvings that adorned the walls, pillars and pilasters of the temple. Located at the basement of the temple is the museum which contains exhibits that illustrate the history of the clan, tracing back its origins to Sin Kang village in Fujian Province , China.
The temple courtyard was also featured as a location in the Hollywood movie, ¡®Anna and the King'.
Visiting Hours : Daily from 9am to 5pm
Admission : Adults – RM5.00/pax Children – RM1.00/pax
---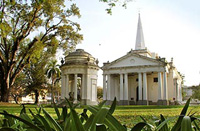 St George's Church
1 Farquhar Street – Telephone: 604-261 2739
Completed in 1818, the St George's Church is the oldest Anglican house of worship in Southeast Asia . Its façade had remained relatively unchanged over the years. The white ¡°Georgian Palladium¡± structure which sits majestically on verdant grounds had inspired several early paintings which can be viewed at the Penang State Museum . Also on the church lawn is a small Greek temple structure, built in 1886, which bears a marble plaque with inscriptions as a memorial to Captain Francis Light.
Sunday Services: First Services – 8.30am. Second Service – 10.30am